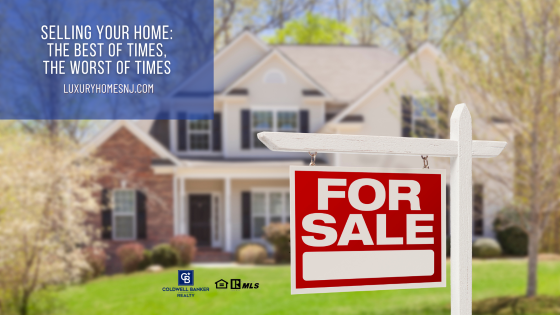 You probably have heard that real estate is all about location, location, location. But, honestly, sometimes it really depends on your timing, timing, timing. So, when selling your home, what is the best time to list it on the market and when should you think about waiting?
Selling Your Home
Best Time to Sell Your Home
While home sales declined throughout the state last month, the Westfield area (including Plainfield, Scotch Plains, and Cranford) still favors the seller. We live in a highly desirable area. Buyer demand remains relatively high compared to other areas of the state. However, many cities and towns in the Westfield area are seeing a shift to a more balanced market. That means a healthy buyer demand as well as good inventory levels.
Also, springtime tends to be a busy time for real estate. Nicer weather brings out the buyers. Plus, many families start looking in the spring so that they can move during their children's summer break. So, if you want to sell your Westfield area home, now is still a great time to do so. Just make sure to work on your curb appeal and price it correctly for the current market conditions.
Is There a "Worst Time" to Sell Your Home?
For us East Coast folks, winters tend to be pretty brutal. And this winter has been no exception. However, with that being said, there really is no "worst" time to sell your home. Why? Even in the rough winter months, people still look for homes. In fact, the ones out there looking tend to be the most determined to make a deal when they find one. Therefore, as long as you truly feel ready to sell your home and move on, any time can be the right time to sell a home. Just be patient. Even in a seller's market, homes are not selling at the breakneck speed we saw 12 to 16 months ago.
If you want to take advantage of the busier spring season, start working on getting your Westfield area home ready to list now. Then, when you are ready to put your home on the market, contact me.
Scott Gleason, CRS at Coldwell Banker Realty – East, NJ Luxury Homes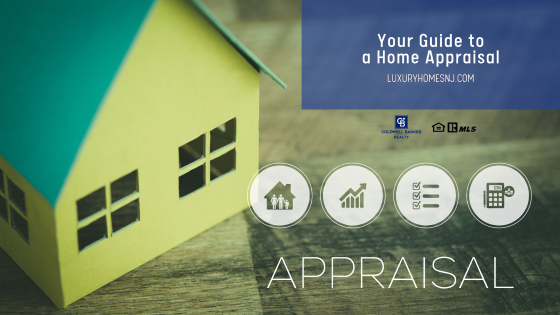 You found your dream Westfield area home. Now it is time to cross all your "T's" and dot all your "I's" before it becomes all your own. And one of the first items on your closing checklist is the home appraisal. So, what exactly is that?
Your Guide to a Home Appraisal
The home appraisal is essentially a value assessment of a home and property. It is conducted by a certified third party and is used to determine whether the home is priced appropriately. It is also one of the "hidden fees" every buyer needs to be aware of when purchasing their home. According to Manta.com, Westfield area home buyers should expect to pay $363 on average for their appraisal.
During a home appraisal, the appraiser conducts a complete visual inspection of both the interior and exterior of the home. He or she factors in a variety of things, including the home's floor plan functionality, condition, location, school district, fixtures, lot size, and more. An upward adjustment is generally made if the home has a deck, a view, or a large yard. The appraiser will also compare the property to several similar ones that were sold within the last six months (or less) in the area.
The final report must include a street map showing the property in question as well as the other comparable properties, photographs of the interior and exterior, an explanation of how they calculated the square footage, market sales data, and public land records, among other things.
After completion, the lender uses the information found in the home appraisal to ensure that the property is worth the amount they are investing. This is a safeguard for the lender as the home acts as collateral for the mortgage. If the buyer defaults on the mortgage and goes into foreclosure, the lender generally sells the home to recover the money borrowed.
Lenders do not approve mortgage loans for more than their appraised value. If your appraisal comes back below the agreed sales price, you must then make a decision about how to proceed with the sale. First, you might try to negotiate with the seller to lower the price. Second, you could come up with the difference between the appraised value and the sale price out of your own pocket. (However, keep in mind that this is in addition to your down payment and closing costs.) Or you may want to go with a third option…walk away. Talk to your REALTOR® to determine your best course of action.
Scott Gleason, CRS at Coldwell Banker Realty – East, NJ Luxury Homes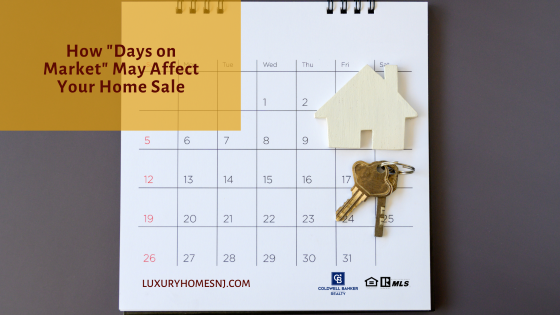 Most homebuyers look at the size of a property, its location, and the price right away. But, some buyers (as well as their REALTORS®) also look at how long the property has been on the market. Why? Newer listings get the most traffic. When it sits on the market for a while, buyers begin wondering what is wrong with it. Also, they believe the seller might be more willing to entertain a lower offer. Find out how the days on market can affect your home sale and what you can do to change it.
How "Days on Market" May Affect Your Home Sale
What are "Days on Market"?
"Days on market" (or DOM) are the number of days from when a property gets listed to when it enters a "pending" status. The average DOM varies from city to city. According to Redfin, Madison homes saw an average of 26 DOM in April 2022 while Short Hills homes spent 12 days on the market before changing over to pending. Lower DOM brings in the most interest. As the DOM grows longer, interest wanes. So, what do you do to bring back buyers' interest?
Breathing Life Into a Stale Listing
Review Feedback – Whenever your home is shown (either through an open house or a private viewing), your agent should ask for feedback from the potential buyer and/or their representative. From this feedback, you can find out what overall impression your home gives. In turn, this provides a base from which you can build your property back up for future potential buyers.
Take it Off the Market Temporarily – Many areas allow you to withdraw your property from the market and resubmit it after a specific period of time as a new listing (typically about 30 days). In essence, this "resets" your DOM. Use your downtime to make necessary updates/repairs to freshen it up. Sometimes, this may be something as simple as a new coat of paint or trimming the landscape. Other times, you might need to replace all the flooring or renovate an area or two of the home.
Lower Your Price – A majority of the time, simply lowering the price (even slightly) triggers a reassessment of the property by buyers. It also opens your home up to a new tier of buyers that may have considered your property out of their price range before. However, consider this. If you take your home off the market and make some updates, you might be able to list it at your original asking price. Talk to your REALTOR® to determine which areas to invest your money in to bring about the best result.
Scott Gleason, CRS at Coldwell Banker Realty – East, NJ Luxury Homes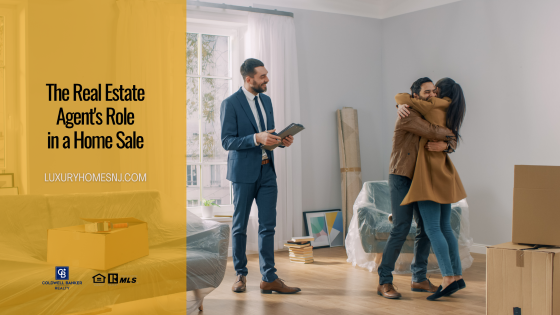 Real estate shows like "Flip or Flop", "Good Bones", and "Unsellable Homes" make it appear easy to sell your home. All you need is a little paint and polish and buyers practically beat down your door, right? Not so fast. It takes a little more finesse and a lot more experience for the typical homeowner to sell their home. And that is where hiring a real estate agent comes into place.
The Real Estate Agent's Role in a Home Sale
Setting the List Price
First of all, a good REALTOR® knows how to determine a proper list price. Why is this important? Because if you price it too high, it may turn buyers off. Even in a seller's market, homes still need to be priced appropriately for the market. If you cannot get buyers through the door, your home will simply just sit there. Then, you will need to lower your list price to bring interest to your listing. This only delays finding a buyer and may even net you less than you would have received if you priced it properly to begin with.
How does a real estate agent decide the right list price? By conducting a comparative market analysis. They look at recently sold homes in your neighborhood. Then, they focus on the ones that are most comparable to yours in age, size, and amenities. In addition, they use their experience in the local market to come up with the amount that will bring you the most buyers and the best sale price.
Preparing Your Home for the Market
Another area where a REALTOR® comes in handy is getting your Westfield area home ready for the market. This includes staging your home and making any necessary repairs. They also know which areas you should focus your efforts on and which areas do not need attention at all. For example, always make sure your curb appeal is on point. But perhaps the slightly older appliances in the kitchen can remain or the paint on the walls is a perfectly acceptable color. After all, many home buyers replace appliances soon after they move in. And others may decide to paint the walls after their belongings are in the space. However, if the appliances are severely outdated or the paint color is too severe, you might want to change those up anyway.
Marketing Your Home
Selling a home takes time. With your busy life, do you really have time to hire a photographer, make flyers, host open houses, conduct private showings, make sure to blast it all over social media, and be present at inspections and/or the appraisal? Plus, real estate agents have access to the MLS which sends your listing into the hands of thousands of other real estate agents with buyers looking for a home just like yours.
Vetting Buyers
Finally, a real estate agent vets buyers for you. It is not enough to get buyers through the door. You want qualified buyers looking at your Westfield area home. Since an agent does not make any money unless the property sells, it works in their best interest as well as yours to eliminate the unqualified buyers.
When you are ready to list your home on the market, contact me. I can help you get it ready to list, market it for you, and get it sold as quickly as possible.
Scott Gleason, CRS at Coldwell Banker Realty – East, NJ Luxury Homes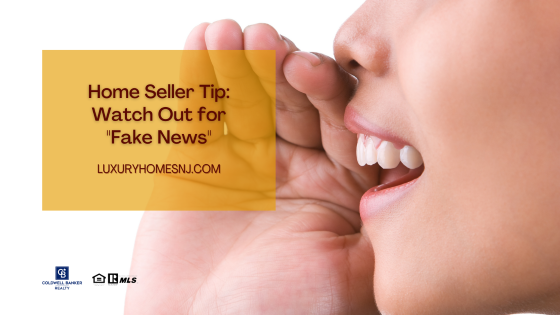 Oftentimes, we hear fantastical stories about recently sold homes. Maybe your neighbor fielded several offers after only one day on the market. Or you heard about a friend of a friend who sold their rundown property for tens of thousands over their asking price without putting any effort into fixing it up. Unfortunately, these tend to be the exception rather than the rule. Yes, the Westfield area real estate market still favors the seller, according to Realtor.com. However, a home seller needs to keep an eye out for "fake news" when they put their property on the market. Otherwise, they might end up very disappointed.
Misleading "Facts" for the Home Seller in Today's Market
You Don't Need to Fix It Up
You may have heard that buyers will purchase a Westfield area home no matter what shape it is in. Unfortunately, that is untrue. Today's buyer wants a move-in ready house over a "fixer-upper". However, you do not need to break your budget trying to create a masterpiece. I cannot express how important a good cleaning is for the home seller. Even simple things like nice curb appeal, a fresh coat of paint, and minor repairs increase your premises' attraction to buyers.
Buyers Will Pay Whatever You Ask
Just because you ask for it does not mean you will get it. You still need to price your home appropriately for the current market. That is where a good Westfield area REALTOR® comes in handy. They can run comps on recently sold homes in your area. This gives you an idea of what people are paying for properties like yours right now. If you price it too high, you end up sitting on the market for a while. You may even need to make a few downward adjustments to the price in order to entice a buyer, possibly selling it for less in the long run. A properly priced home at or even slightly below market value not only generates interest but might even bring in a higher price than you originally wanted.
Always Pick the Highest Priced Offer
Finally, if a home seller finds themselves receiving multiple offers, congratulations! Many sellers would love to be in that position. However, the highest offer is not necessarily the best offer. Other things that should factor strongly into your final decision should include the amount of the earnest money deposit, the strength of the buyer's financing, and how many contingencies they place on the deal.
Scott Gleason, CRS at Coldwell Banker Realty – East, NJ Luxury Homes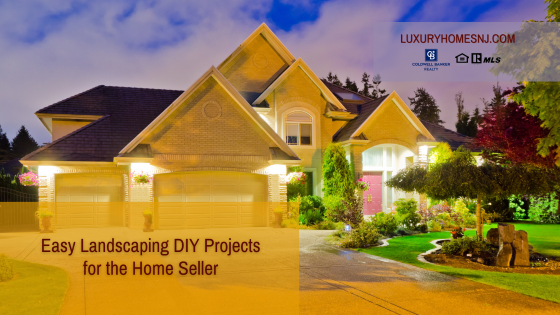 Ever get the itch to do a DIY project? Whenever we do, our favorites involve getting outdoors and mixing up our landscaping features. Whether it's as simple as installing some lighting or a little more time-consuming like re-plotting plants, a fresh look for the lawn always gives your Westfield area home a fresh look as well. Plus, this offers the best first impression for home buyers. Since we are entering the busy home buying period right now, you need to put your best foot forward when selling your home. Landscaping always needs to be included in your staging strategies, too.
Here are our top five easy landscaping DIY projects!
Easy Landscaping DIY Projects for the Home Seller
Create a Pathway
To guide you and visitors throughout your yard and link different areas together, install a pathway. You can use a wide variety of materials, including reclaimed pallet wood, flagstones, gravel, and more to add texture and color. Use these ideas from This Old House for inspiration if needed.
Add a Wall or Border
Installing a flagstone, rock, or brick wall around flower beds or trees adds a sleek, clean look to your landscaping and helps separate different sections of your yard. These landscaping DIY projects can be done over the course of a weekend.
Install a Water Feature
Nothing says "zen" quite like the sound of trickling water as you relax in your backyard. You can start simply by purchasing and installing a small feature powered by a solar panel. Or create a larger focal point in your yard by installing a waterfall wall or small pond.
Light Your Way
An easy way to transform your yard is to strategically use lighting. Place cool-colored lights high in trees to recreate a moonlight feel. Use pathway lights to naturally guide the eye or highlight objects or plants.
Plant Upwards
Expand your yard space by drawing the eye to the sky with a trellis fence or screen made of wood or metal. Once you install your trellis, select your climbing plants and vines and get to planting!
Scott Gleason, CRS at Coldwell Banker Realty – East, NJ Luxury Homes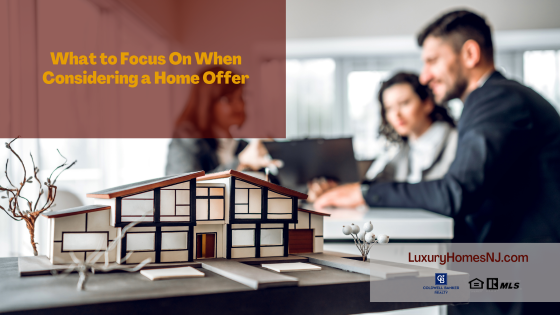 You listed your Westfield area home for sale and received multiple offers for it. Congratulations! Many sellers dream of being in your position. Now, the hard part. You must decide which home offer to accept. (An embarrassment of riches, right?) Sometimes, however, the highest price is not the best offer. Consider these other important factors before making a final decision.
What to Focus On When Considering a Home Offer
Contingencies
Most of the time, buyers include contingencies with their offer. These are conditions that must be satisfied before closing in order to complete the sale. Common ones include an appraisal, home inspection, loan approval, and sale of the buyer's current home. If a contingency is not met by closing, the buyer can walk away with their Earnest Money Deposit in hand. Therefore, fewer contingencies usually make for a smoother transaction.
Timeline
You have heard the phrase "time is money", right? Well, an offer fitting your time constraints is money, too. Perhaps you need a shorter escrow period because you need to move quickly. Or maybe you want a little more time than 30 days to get everything packed up and ready to move. Whatever your timeframe may be, an offer that fits in those parameters may well be worth a slightly lower offer price to you.
Earnest Money Deposit
Buyers must deposit money into an escrow account to hold as "good faith". When the sale completes, this money then goes towards the buyer's down payment. This is their Earnest Money Deposit. If they break the sales contract and walk away from the deal completely, the earnest money goes to the seller. While 1% to 2% of the sale price tends to be the norm, a higher EMD shows how serious the buyer is about the sale. The buyer is less likely to walk away when they risk losing this money.
Financing
Finally, let's talk financing. All-cash offers sound great. They tend to take less time to close and minimize contingencies more often than buyers who must finance their purchase. Unfortunately, a buyer with an all-cash home offer also tends to hold the negotiating power. Therefore, their offer may come in below your asking price.
On the other hand, a buyer whose offer includes financing provides a higher risk. Anything could happen to make the loan fall through during escrow. In fact, according to Rocket Mortgage, approximately 5% of pending sales fall through escrow. A home offer that includes a pre-approval letter makes a stronger claim than one without a pre-approval letter. Even so, a "pre-approval" is not a "final approval". If your buyer does not receive final approval for their loan, then you are right back where you started…on the market and in search of a new buyer.
Before making a final decision about a home offer, weigh its pros and cons. Ask your REALTOR® for their advice. Their experience can help you make a more informed choice that works best for your individual situation.
Scott Gleason, CRS at Coldwell Banker Realty – East, NJ Luxury Homes