Social Links Widget
Click here to edit the Social Media Links settings. This text will not be visible on the front end.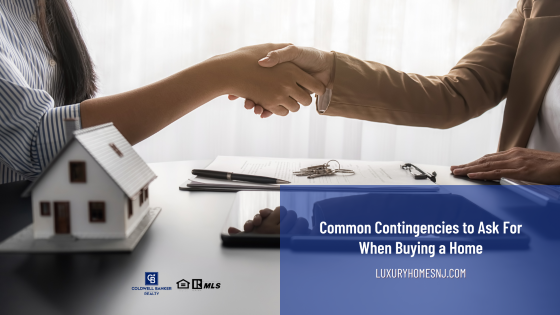 Just like much of the rest of the country, the Westfield real estate market appears to be transitioning from a hot seller's market to a more balanced one. We see fewer and fewer bidding wars nowadays. In turn, buyers now seem more comfortable asking for certain conditions (aka contingencies) than they have in a while. Even so, buyers need to temper just how many of these conditions they include in their offer. Otherwise, the seller may decide to refuse it. However, there are a few common contingencies that buyers can feel comfortable including as part of the sale.
Common Contingencies to Ask for When Buying a Home
Home Inspection Contingency
While not legally required for most New Jersey home sales, I always suggest that buyers put this contingency in the sales contract…even with new construction. You need to know what condition your property is in before you invest so much money in it. Some more serious issues may lie beneath what a simple layman's walk-through would show. An inspection typically costs between $300 and $400. This must be paid by the buyer once the inspection is done. Inspectors visually inspect the foundation, roof, electrical system, air conditioning system, and plumbing. If they find areas of concern, you may need to hire other inspectors who specialize in those specific areas for further investigation at an additional cost.
Financing Contingency
Unless you pay for your entire home purchase in cash, you may want to include a financing contingency in your sales contract. Pre-approval helps reduce the chances of your financing falling through. However, this contingency protects your Earnest Money Deposit in case your lender denies your loan.
Appraisal Contingency
Whenever you finance a home purchase, the lender requires an appraisal. So, another one of the common contingencies to include in your sales contract is the appraisal contingency. If the home does not appraise for what you need to borrow, your lender will not approve the loan. When that happens, you have three choices. One, renegotiate the sales price. Two, come up with the difference out of your own pocket. Or three, walk away.
Home Sale Contingency
Finally, if you need to sell your current home in order to fund your next one, add the home sale contingency to your contract. One way to avoid this issue is to sell your current home before looking for a new one. Yes, that means moving twice (once into a short-term rental and then again when you find your next home). But it also sets you above other buyers that may have to sell their homes first.
The fewer contingencies you include in your offer, the better. It makes for a smoother real estate transaction. And that's what sellers appreciate even more than the price. When you decide you want to buy a new Westfield area home, contact me.
Scott Gleason, CRS at Coldwell Banker Realty – East, NJ Luxury Homes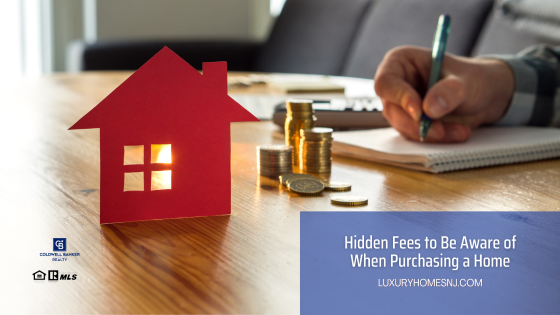 Purchasing a home is arguably one of the biggest financial decisions you will make in your lifetime. As you start your hunt, do not forget there will be costs associated with your purchase in addition to the  price of your luxury NJ home. Here are five "hidden fees" to keep in mind as you begin to budget.
Hidden Fees to Be Aware of When Purchasing a Home
Home Inspection
This is a crucial step in the home buying process. The findings that come from the inspection can help you negotiate the price and repairs. According to HomeYou, Westfield area home buyers can expect to pay between $344 and $419 for a standard home inspection.
Title Services
Title services encompass the transfer of the title from the seller and a thorough search of the property's records to ensure to no one will pop up with a claim to the property. Additionally, you may need to buy title insurance which will protect the lender or your investment in the home.
Appraisal Fee
Before getting a loan, you will likely be required to get an appraisal to determine your home's estimated value. This will be conducted by a third-party company. According to Manta.com, can expect to pay between $280 to $476. Typically, Westfield area home buyers pay an average of $363.
HOA Fees
Another one of the "hidden fees" linked with a home purchase is HOA fees. Many communities have a homeowners' association that enforces monthly fees. This money is used for general maintenance and updates to areas like pools, parks, and more. These fees vary from neighborhood to neighborhood.
Taxes
The taxes each buyer pays at the closing table differ. But it is not uncommon for it to be up to two months' worth of county and city property taxes. Additionally, there may be taxes for the transfer of the home title.
Scott Gleason, CRS at Coldwell Banker Realty – East, NJ Luxury Homes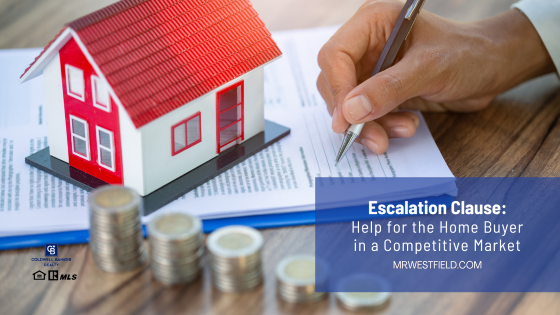 Many buyers wonder if they should wait a little bit before actively searching for their next property. Price reductions all over the country leave buyers wondering if the market already reached its peak. If prices are on the decline, it may seem logical to wait. But in hot areas like Westfield, Scotch Plains, Cranford, and many of the surrounding areas, sellers still rule the market. So, you may find yourself in a bidding war with other buyers for a property. That means that you need to make your offer stand out. How? An escalation clause could be just the ticket to capturing a seller's attention.
How an Escalation Clause Can Help a Buyer Make Their Offer Stick
What is an Escalation Clause?
In a regular offer, the buyer agrees to pay X dollars for the home in question. When they include an escalation clause, they propose paying an additional dollar amount over another seller's higher offer up to a definitive amount. For example, the seller lists the price at $600,000. You put in an offer for $610,000. Your REALTOR® did their due diligence and knows that another offer is already on the table. While the seller's agent may not disclose how the current highest offer is, they do say it is higher than that. So, you include an escalator that says you are willing to pay $5,000 more than the highest offer up to $625,000. The other offer is $615,000. Then, your new offer automatically goes to $620,000. The seller accepts your offer with the escalator and escrow opens up.
When Should You Include It in Your Offer?
An escalation clause should only be used when you are fairly certain you may find yourself in a bidding war. However, doing so lets the seller know exactly how much you are willing to pay for their home. That leaves you a bit vulnerable when it comes to negotiating. The seller may even decide to counter the escalator with a higher price, knowing how high you are willing to go.
Always discuss this option with your REALTOR® before submitting your offer to the seller. They can use their resources to find out whether this is a good idea or not.
Scott Gleason, CRS at Coldwell Banker Realty – East, NJ Luxury Homes