Social Links Widget
Click here to edit the Social Media Links settings. This text will not be visible on the front end.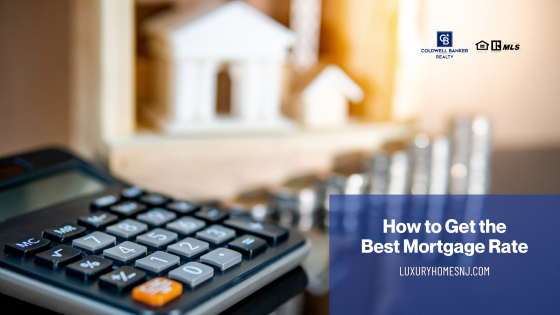 2022 was quite a wild ride for mortgage rates. We started off the year at an average of 3.22% for a 30-year fixed-rate mortgage. By the end of October, rates peaked at 7.08%. After dipping slightly for a couple of weeks, they hit 7.08% again in early November. But since then, rates began to decline. As of the writing of this post, Freddie Mac puts the average at 6.27%. The higher your interest rate, the higher your mortgage payment. What should you do to get the best mortgage rate for your next home purchase? Follow these simple steps.
How to Get The Best Mortgage Rate
Whip That Credit Into Shape
Higher credit scores translate into lower interest rates. Start by visiting AnnualCreditReport.com for a free copy of your credit report. Look for any errors. Each reporting agency (Equifax, TransUnion, and Experian) offers a link to report these errors with its own rules for reporting. So, if you find errors on your credit report, visit the appropriate agency's website and follow their requirements. Be prepared to provide proof of the error as well.
Pay Down Debt
Part of whipping your credit into shape includes paying down debt. The quickest way to increase your credit score is to pay down your revolving credit accounts. Borrowers should use no more than 30% of the limit on these. So, if your credit card has a $10,000 limit, your balance should not be more than $3000. If your balances rise above 30% of their limits, pay those down to 30% or below as soon as possible. Additionally, lenders like to see a lower debt-to-income ratio.
Increase Your Down Payment
Another way to lower your mortgage rate is with a higher down payment. Financial experts recommend 20% down whenever possible. This helps you qualify for better rates. It also prevents you from paying PMI, which lowers your monthly payment as well. However, if 20% down is not possible, that is OK. There are plenty of loan programs available that allow you to put far less down.
Buy Mortgage Points
Another way to lower than interest rate is to pay for points. They typically cost 1% of the mortgage loan amount for a 0.25% reduction in interest rate. For example, you borrow $750,000 for your Westfield area home. You qualify for 6.3% interest. To lower that to 6.05%, you need to come up with $7500. That is in addition to your down payment and closing costs. That saves you approximately $120 per month (over $1400 per year). This may be a motivating factor to pay down your points or you may choose to utilize that money in some other way.
Shop Around for Lenders and Loans
Do you always settle for the first car, first TV, first home, or first REALTOR® that you see? No. Most people shop around for these. You need to do the same with your lender and your loan. Compare lenders first. Find the one that offers the best rates with the best reputation. Then, talk to them about loan options. FHA? VA? Conventional? 30-year? 15-year? Fixed-rate? Adjustable-rate? Ask your lender about the pros and cons of each before making a final decision.
Scott Gleason, CRS at Coldwell Banker Realty – East, NJ Luxury Homes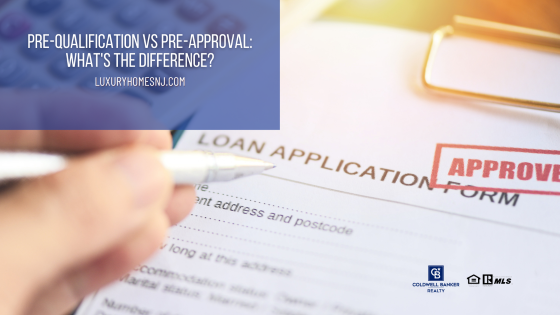 Most of the headlines lately talk about how the market has turned in the buyer's favor. Well, that may be true in other areas of the country but not in the Westfield real estate market. Sellers still have the upper hand here. In fact, a five-bed/one-and-a-half bath Westfield property just sold recently for $36,000 over asking after just 20 days on the market. So, if you plan on buying a home in the Westfield area, you need to get your financing in order first. Should you get a pre-approval letter or will a pre-qualification work? What's the difference?
What's the Difference Between Pre-Qualification and Pre-Approval?
Pre-Qualification
First of all, pre-qualification only takes a matter of minutes. Your lender asks you about your income, your debt, and if you have any assets. Then, they take that information and estimate how much you can afford to spend. In a day or two, the lender sends you an official pre-qualification letter. However, they do not run a credit report. That can have a huge impact on whether or not they approve you for the loan and how much of an interest rate they charge. Therefore, pre-qualification really acts as more of a reference point for your price range rather than an actual approval.
Pre-Approval
Pre-approval on the other hand takes much longer. First, you fill out a mortgage application. Then, they pull your credit report. After that, you provide proof of income and assets (W2s, paycheck stubs, bank statements, tax documents, etc). They also verify employment. Once they perform their due diligence, the lender lets you know whether or not you are a good candidate for loan approval and for how much.
Most Westfield area sellers ask that buyers submit a pre-approval letter with their offer. In fact, they may not even consider an offer without one. But keep in mind that pre-approval does not equal final approval. You need to avoid making any major changes during the escrow process (buying a new car or furniture, opening up credit cards, changing jobs). Otherwise, you may find yourself denied a mortgage loan.
Between pre-qualification and pre-approval, I always suggest you get pre-approved. If possible, you may want to ask your lender about pre-underwriting. That is just the next step before final approval. It not only strengthens your offer in the seller's eyes, but it also shortens your escrow time. That allows you to close on your new home even faster.
Westfield Area Y Men's Club Christmas Tree Lot
Finally, I just wanted to say "thank you" to everyone who came to our Christmas tree lot. We sold out early again this year. You guys are amazing. We'll see you again next year. Merry Christmas to you all!
Scott Gleason, CRS at Coldwell Banker Realty – East, NJ Luxury Homes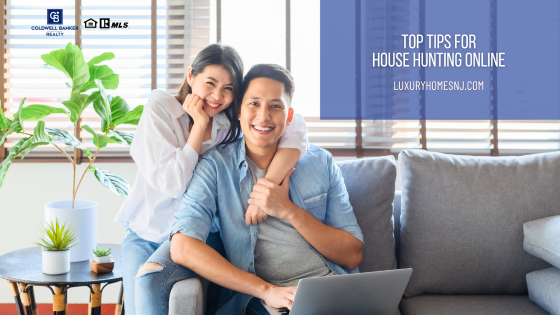 Hunting for a new luxury NJ home online is a great place to start your search. In fact, a National Association of REALTORS® study found that 90% of home buyers use the internet to look for homes at some point during their home search. However, this should not be your "end all be all" to house hunting. Good listing agents are excellent at highlighting the best features of a home. But keep in mind that there may be more to it than meets the eye. To make the most of your time and efforts and gather a well-rounded picture when house-hunting online, keep the following three things in mind.
Top Tips for House Hunting Online
Stay Up to Date
When you start your search, make sure you find a site that pulls up-to-date listings directly from the multiple listing service (MLS) where real estate agents actively post their most current homes for sale. Many online resources update less often or fail to remove listings that are off the market. This makes it more difficult to sort through the clutter.
Pictures Can be Deceiving
Real estate photographers are experts at showing a home in the best possible light. Many pros use tools and strategies to boost appeal, such as a fisheye lens to make areas look larger and creative editing to make colors and textures really pop. Often, though, listings will not contain photos of unappealing parts of the home, like small closets or outdated bathrooms. That's where my final tip factors into the house-hunting equation.
See It to Believe It
Once you find what appears to be your dream Westfield area home online, call up your experienced local real estate agent and schedule a showing. You want to take the opportunity to vet the home in person and explore every part of it before beginning the offer process. Your real estate agent will help you cover all your bases and will ask questions that you may not have thought of.
Scott Gleason, CRS at Coldwell Banker Realty – East, NJ Luxury Homes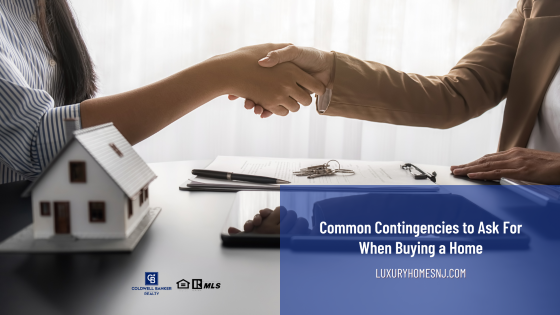 Just like much of the rest of the country, the Westfield real estate market appears to be transitioning from a hot seller's market to a more balanced one. We see fewer and fewer bidding wars nowadays. In turn, buyers now seem more comfortable asking for certain conditions (aka contingencies) than they have in a while. Even so, buyers need to temper just how many of these conditions they include in their offer. Otherwise, the seller may decide to refuse it. However, there are a few common contingencies that buyers can feel comfortable including as part of the sale.
Common Contingencies to Ask for When Buying a Home
Home Inspection Contingency
While not legally required for most New Jersey home sales, I always suggest that buyers put this contingency in the sales contract…even with new construction. You need to know what condition your property is in before you invest so much money in it. Some more serious issues may lie beneath what a simple layman's walk-through would show. An inspection typically costs between $300 and $400. This must be paid by the buyer once the inspection is done. Inspectors visually inspect the foundation, roof, electrical system, air conditioning system, and plumbing. If they find areas of concern, you may need to hire other inspectors who specialize in those specific areas for further investigation at an additional cost.
Financing Contingency
Unless you pay for your entire home purchase in cash, you may want to include a financing contingency in your sales contract. Pre-approval helps reduce the chances of your financing falling through. However, this contingency protects your Earnest Money Deposit in case your lender denies your loan.
Appraisal Contingency
Whenever you finance a home purchase, the lender requires an appraisal. So, another one of the common contingencies to include in your sales contract is the appraisal contingency. If the home does not appraise for what you need to borrow, your lender will not approve the loan. When that happens, you have three choices. One, renegotiate the sales price. Two, come up with the difference out of your own pocket. Or three, walk away.
Home Sale Contingency
Finally, if you need to sell your current home in order to fund your next one, add the home sale contingency to your contract. One way to avoid this issue is to sell your current home before looking for a new one. Yes, that means moving twice (once into a short-term rental and then again when you find your next home). But it also sets you above other buyers that may have to sell their homes first.
The fewer contingencies you include in your offer, the better. It makes for a smoother real estate transaction. And that's what sellers appreciate even more than the price. When you decide you want to buy a new Westfield area home, contact me.
Scott Gleason, CRS at Coldwell Banker Realty – East, NJ Luxury Homes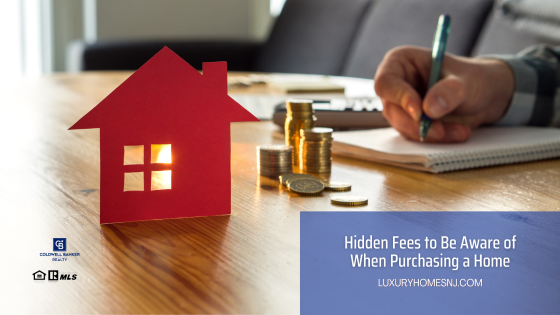 Purchasing a home is arguably one of the biggest financial decisions you will make in your lifetime. As you start your hunt, do not forget there will be costs associated with your purchase in addition to the  price of your luxury NJ home. Here are five "hidden fees" to keep in mind as you begin to budget.
Hidden Fees to Be Aware of When Purchasing a Home
Home Inspection
This is a crucial step in the home buying process. The findings that come from the inspection can help you negotiate the price and repairs. According to HomeYou, Westfield area home buyers can expect to pay between $344 and $419 for a standard home inspection.
Title Services
Title services encompass the transfer of the title from the seller and a thorough search of the property's records to ensure to no one will pop up with a claim to the property. Additionally, you may need to buy title insurance which will protect the lender or your investment in the home.
Appraisal Fee
Before getting a loan, you will likely be required to get an appraisal to determine your home's estimated value. This will be conducted by a third-party company. According to Manta.com, can expect to pay between $280 to $476. Typically, Westfield area home buyers pay an average of $363.
HOA Fees
Another one of the "hidden fees" linked with a home purchase is HOA fees. Many communities have a homeowners' association that enforces monthly fees. This money is used for general maintenance and updates to areas like pools, parks, and more. These fees vary from neighborhood to neighborhood.
Taxes
The taxes each buyer pays at the closing table differ. But it is not uncommon for it to be up to two months' worth of county and city property taxes. Additionally, there may be taxes for the transfer of the home title.
Scott Gleason, CRS at Coldwell Banker Realty – East, NJ Luxury Homes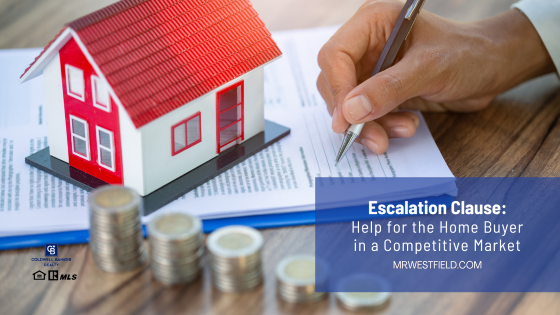 Many buyers wonder if they should wait a little bit before actively searching for their next property. Price reductions all over the country leave buyers wondering if the market already reached its peak. If prices are on the decline, it may seem logical to wait. But in hot areas like Westfield, Scotch Plains, Cranford, and many of the surrounding areas, sellers still rule the market. So, you may find yourself in a bidding war with other buyers for a property. That means that you need to make your offer stand out. How? An escalation clause could be just the ticket to capturing a seller's attention.
How an Escalation Clause Can Help a Buyer Make Their Offer Stick
What is an Escalation Clause?
In a regular offer, the buyer agrees to pay X dollars for the home in question. When they include an escalation clause, they propose paying an additional dollar amount over another seller's higher offer up to a definitive amount. For example, the seller lists the price at $600,000. You put in an offer for $610,000. Your REALTOR® did their due diligence and knows that another offer is already on the table. While the seller's agent may not disclose how the current highest offer is, they do say it is higher than that. So, you include an escalator that says you are willing to pay $5,000 more than the highest offer up to $625,000. The other offer is $615,000. Then, your new offer automatically goes to $620,000. The seller accepts your offer with the escalator and escrow opens up.
When Should You Include It in Your Offer?
An escalation clause should only be used when you are fairly certain you may find yourself in a bidding war. However, doing so lets the seller know exactly how much you are willing to pay for their home. That leaves you a bit vulnerable when it comes to negotiating. The seller may even decide to counter the escalator with a higher price, knowing how high you are willing to go.
Always discuss this option with your REALTOR® before submitting your offer to the seller. They can use their resources to find out whether this is a good idea or not.
Scott Gleason, CRS at Coldwell Banker Realty – East, NJ Luxury Homes