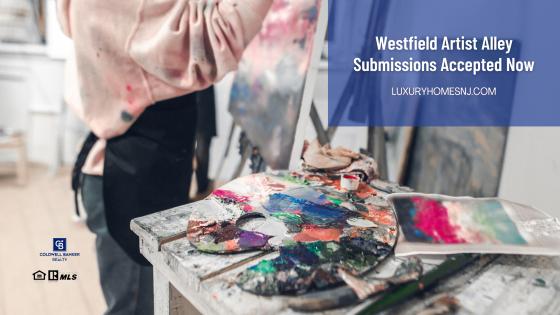 Westfield loves the arts in all of their forms. Visit any one of the dozens of galleries in the downtown area to see artwork of all kinds (paintings, pottery, photography, etc.). Sweet Sounds Downtown offers four different live concerts every Tuesday through the end of August. And right now, the Westfield Public Arts Commission is accepting submissions from local artists to create an Artist Alley right in the heart of downtown Westfield.
New Westfield Artist Alley
The WPAC wants to create a permanent public installation in downtown Westfield. But they need talented artists to submit their ideas. Westfield's brand new Artist Alley will be set up on the side of the old Rialto theatre connecting Broad St. to the parking lot. They wish to see both 2D and 3D works of art (mosaics and wall sculptures) added to the wall. Each artist will be recognized for their individual work.
Anyone interested in participating in Artist Alley may email their full-color submissions to the WPAC. All submissions must be received by the end of the day on August 22nd to be considered.
New Life at the Old Rialto Theatre
The Rialto, a local landmark since 1922, closed its doors rather suddenly back in 2019. After much dispute between the owners, it reopened late last year as the Center for Creativity at the Rialto. Here, they wish to foster creativity in literature, film, live performances, and art. They also want to preserve a bit of Westfield's past by keeping the Rialto building alive and well for future generations to enjoy.
Less than 20 towns in the entire state have kept old movie palaces like the Rialto alive. One of those towns just happens to be our very own Westfield. Support the arts and history by supporting public installations like Artist Alley. Thank you.
Scott Gleason, CRS at Coldwell Banker Realty – East, NJ Luxury Homes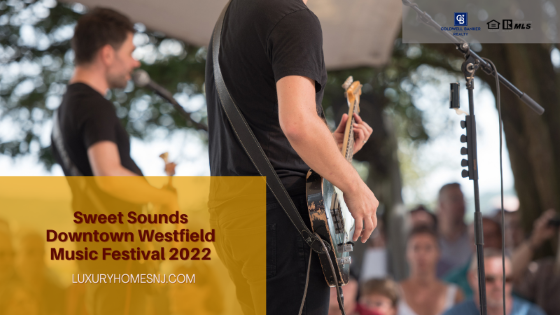 Every summer, downtown Westfield fills up with the sweet, sweet sounds of live music. This summer proves no exception. Last week, the Sweet Sounds Downtown Westfield Music Festival 2022 kicked off with some classic Jazz, Big Band music, and a rock cover band called the Drop the Needle Trio. But that was only the beginning of a whole summer of fantastic concerts to scintillate your eardrums and bring a smile to your lips.
What: Sweet Sounds Downtown Westfield Music Festival 2022
Where: Four locations around Downtown Westfield
When: Every Tuesday from 7 am to 9 pm throughout July & August
Cost: Free
Contact: Westfield Town Hall (908) 789-4040 or via email
Sweet Sounds Downtown Westfield Music Festival 2022
The Sweet Sounds Downtown Westfield Music Festival takes place around the downtown area every Tuesday from 7 pm to 9 pm throughout July and August. In the past, three different acts were performed on three different stages around downtown Westfield. But organizers wanted to bring a little extra harmony this year. So, they included a fourth stage.
Stage A – Central Ave Stage (137 Central Ave)
Stage B – Quimby St/Elm St Stage (125 Quimby St)
Stage C – Foundation Park Stage (439 South Ave W)
Stage D – Evalyn Dunn Gallery Annex (331 W Broad St)
In case it rains on a random Tuesday in July or August, that week's concerts will be performed on Wednesday of that week instead. So, do a little shopping, grab a bite to eat, and take in a free live concert for dessert during the Sweet Sounds Downtown Westfield Music Festival.
Sweet Sounds Line-Up
July 12th: (A) Carrie Jackson (Jazz), (B) Big Bruce & The Messengers (Motown/R&B), (C) Radio Star (rock music)
July 19th: (A) Bradford Hayes (Jazz), (B) Glenn Alexander & Shadowland (Jazz Rock), (C) Valencia Music School (Rock)
July 26th: (A) The Joe Taino Group (Latin Jazz), (B) Kolor Blynd Band (R&B), (C) Free Speech (Jazz)
August 2nd: (A) Don Braden/Karl Latham Big Fun(k) (Jazz), (B) The Wag (Rock), (C) Higher Ground (Rock)
August 9th: (A) Charlie Apicella & Iron City (Jazz), (B) Thos Shipley (Jazz vocals), (C) Better Late (Rock)
August 16th: (A) Gordon James (Jazz), (B) Soul Seduction (R&B), (C) Little Secret (Americana)
August 23rd: (A) Mauricio de Souza (Latin Jazz), (B) Elena & Boo Demolition String Band (Country/Bluegrass), (C) NJ Workshop for the Arts (Jazz/Rock)
August 30th: (A) BD Lenz All-Stars (Funk/Motown), (B) Nikki Briar & The Sweet Briar Band (Country), (C) Save Mary (Rock)
Stage D Every Tuesday – NJ Youth Symphony
Scott Gleason, CRS at Coldwell Banker Realty – East, NJ Luxury Homes