Social Links Widget
Click here to edit the Social Media Links settings. This text will not be visible on the front end.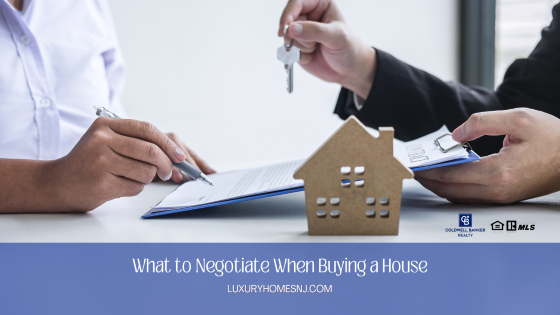 Whether you are a first-time homebuyer or a seasoned veteran, the negotiation part of a real estate transaction can be a little daunting and stressful. However, it is necessary to ensure you are getting the best possible deal for your money. So, what should you negotiate when buying a house?
What to Negotiate When Buying a House
Closing Costs
Your closing costs are determined by a variety of factors. According to New Jersey Lenders Corp., you can expect them to be between 2% and 3% of the purchase price. Ask the seller to cover some or all of the closing costs upfront or request a closing credit that can be used to make specific updates and fixes to the home.
Inspection and Closing Timing
Buyer offers that include a quick inspection and close timeline are often more attractive to sellers who have been going through the process for far too long. Just ensure you allow yourself ample time to get your financing in place and complete proper, thorough inspections.
Home Warranty
Sellers will often agree to pay the premium on the home warranty at closing and then hand it off to the new homeowner. In turn, the new homeowner is then responsible for the deductible on any future claims.
Repairs
Your inspection may uncover small or large repairs needed to bring the home up to standard. You can negotiate to have these items fixed before closing or ask for a price reduction to cover the costs.
Furnishings
Love how the seller has furnished and decorated the home? Buyers often negotiate keeping couches, fixtures, landscaping items, patio furniture, appliances, and more. And many sellers agree, wanting to make the home more appealing.
Much of the Westfield area of New Jersey continues to experience a seller's market. Keep this in mind before you ask for contingencies. Even so, contingencies are part of negotiations when buying a house. You need an experienced REALTOR® on your side who knows the local luxury NJ homes market. Contact me when you are ready to start looking for your next home.
Scott Gleason, CRS at Coldwell Banker Realty – East, NJ Luxury Homes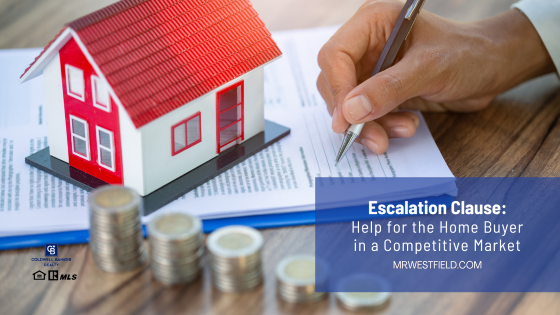 Many buyers wonder if they should wait a little bit before actively searching for their next property. Price reductions all over the country leave buyers wondering if the market already reached its peak. If prices are on the decline, it may seem logical to wait. But in hot areas like Westfield, Scotch Plains, Cranford, and many of the surrounding areas, sellers still rule the market. So, you may find yourself in a bidding war with other buyers for a property. That means that you need to make your offer stand out. How? An escalation clause could be just the ticket to capturing a seller's attention.
How an Escalation Clause Can Help a Buyer Make Their Offer Stick
What is an Escalation Clause?
In a regular offer, the buyer agrees to pay X dollars for the home in question. When they include an escalation clause, they propose paying an additional dollar amount over another seller's higher offer up to a definitive amount. For example, the seller lists the price at $600,000. You put in an offer for $610,000. Your REALTOR® did their due diligence and knows that another offer is already on the table. While the seller's agent may not disclose how the current highest offer is, they do say it is higher than that. So, you include an escalator that says you are willing to pay $5,000 more than the highest offer up to $625,000. The other offer is $615,000. Then, your new offer automatically goes to $620,000. The seller accepts your offer with the escalator and escrow opens up.
When Should You Include It in Your Offer?
An escalation clause should only be used when you are fairly certain you may find yourself in a bidding war. However, doing so lets the seller know exactly how much you are willing to pay for their home. That leaves you a bit vulnerable when it comes to negotiating. The seller may even decide to counter the escalator with a higher price, knowing how high you are willing to go.
Always discuss this option with your REALTOR® before submitting your offer to the seller. They can use their resources to find out whether this is a good idea or not.
Scott Gleason, CRS at Coldwell Banker Realty – East, NJ Luxury Homes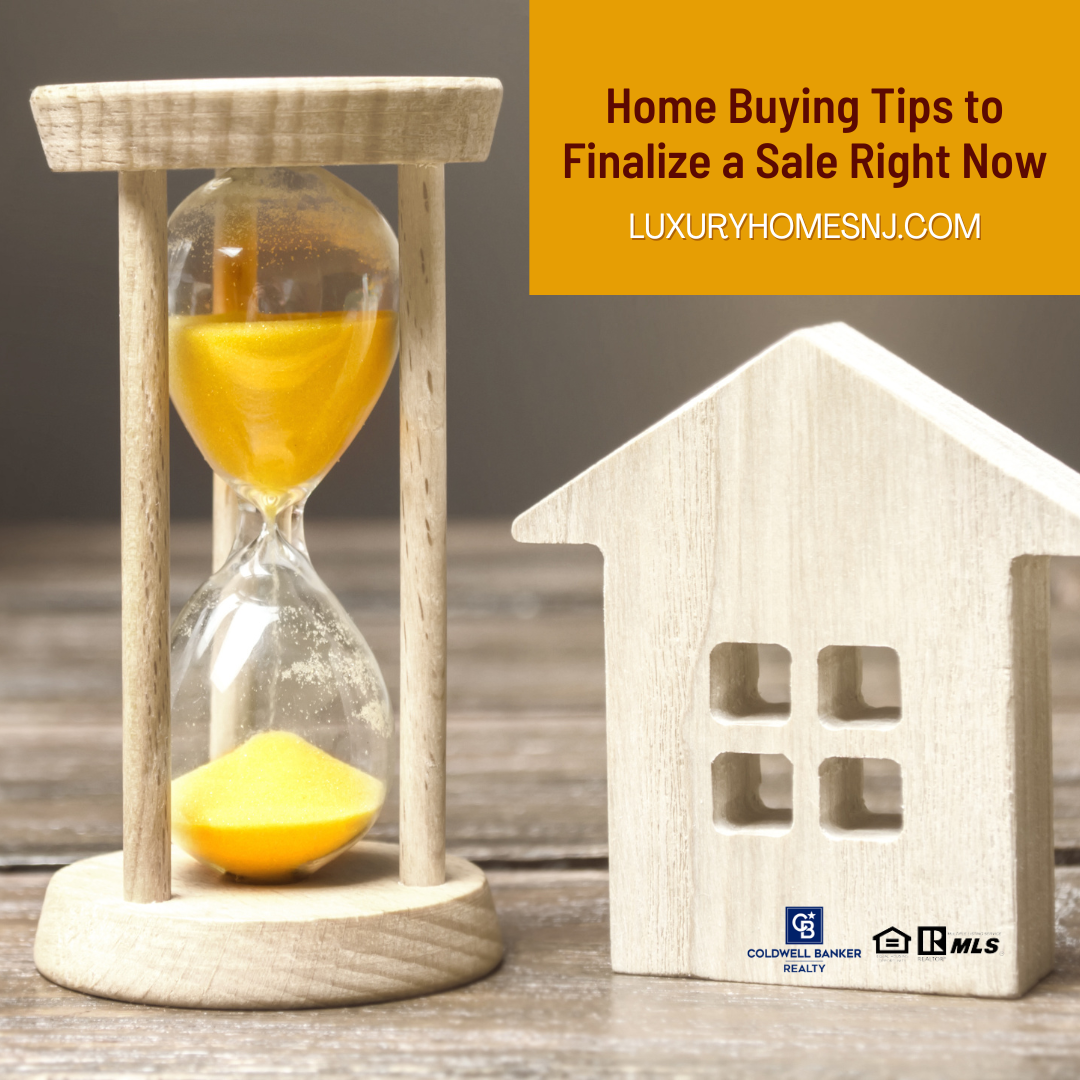 Today's home buyers must navigate a crazy market. In the Westfield area (including Scotch Plains, Mountainside, Cranford, and the surrounding area), the marketplace strongly favors the seller. Low inventory and rising interest rates made many buyers re-evaluate their home buying budgets. If you want to finalize a sale before interest rates go up again, you may want to consider implementing these home buying tips right away.
Home Buying Tips to Finalize a Sale Now
Hire a Great REALTOR®
How do you know your REALTOR® is great? Find one with plenty of experience in the local market you want to make your home.
There is No Such Thing as a Stupid Question
Also, there is no such thing as asking too many questions. Whether your REALTOR® or your lender, anytime a question pops in your head about the home buying process, talk to them. An informed home buyer is a successful home buyer. Plus, this helps set you up to put in an offer right away when you find the perfect Westfield area home. And in a seller's market, you have no time to spare.
Pre-Approval is Key
When you submit your offer letter, you need to include a pre-approval letter with it. Otherwise, sellers may not even bother looking at your offer. Pre-qualification is not enough anymore. Better yet, get your loan to the pre-underwriting stage, if possible. That is when your loan has gone through all of the steps except the final approval. At that point, all you need is an address, a sale price, and an appraisal that meets the lender's requirements to finalize the financial portion of your home sale. The pre-approval process takes time. So, the sooner you start it, the better. I suggest doing this before you even start looking at homes.
Narrow Your Focus
First, determine which features your home absolutely must have. Then, ask your REALTOR® if these realistically fit within your budget and communities of interest. If you cannot find a home that fits these criteria, you might want to re-evaluate it. But the more you focus only on properties that fit within your "must" list, the less distracted you become on other homes.
Make a Strong First Impression
Finally, make sure you submit a strong first offer. A low-ball offer not only insults a seller but might stop them from even countering it. If you find yourself in a bidding war, setting your "best and final" offer on the table eliminates the back and forth of negotiating. Sometimes, this means the highest price. Sometimes it means a larger down payment and earnest money deposit. Other times, the seller may have a specific time frame they need to close in. Your REALTOR® can use their expertise and influence to dig up the information you need to craft your best offer possible to make a deal happen now.
Scott Gleason, CRS at Coldwell Banker Realty – East, NJ Luxury Homes