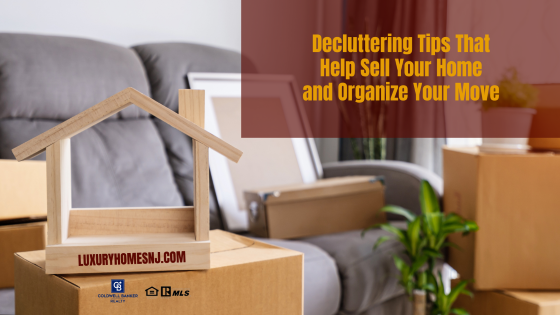 One of the top priorities when getting your Westfield area property ready to sell is to get rid of the clutter. This helps prepare your home for staging. Remember, staged homes sell faster and for more money than unstaged ones. However, clearing your space with intention performs double duty. How? Organizing your "stuff" not only clears the clutter but also helps you when it comes time to move. Use these decluttering tips when preparing to list your home for sale.
Decluttering Tips
Start Right Away
First, start the declutter process right away. It might surprise you how long it takes to go through personal items, memorabilia, etc. The sooner you begin, the less stressed you will feel about meeting your home listing deadline. Also, simply start in one room and work your way throughout the house so as not to feel more overwhelmed than necessary.
Sort
Another one of my helpful decluttering tips is to sort everything you come across into three separate piles: keep, donate, and trash. If you want, you can even make a "maybe" pile. Box these particular items up and include a detailed label. Then, if you find that you have not opened that box in six to twelve months, you may want to consider donating them.
Pack
Next, start packing. Clear bins work best because they make it easy to see the contents inside. However, cardboard boxes offer a cheaper alternative. When using cardboard boxes, make sure to clearly label which room it belongs in and what the box includes inside. That way your dishes do not end up in the bedroom and your clothes do not end up in the kitchen. Trust me. You'll thank me later. Make sure to write the appropriate room on more than one side of the box in large letters for easy recognition.
Trash the Paper
Finally, get rid of all that unnecessary paper. Receipts. Magazines. Old bank statements. Junk mail. We tend to accumulate paper. Shred any personal or financial information to avoid identity theft. Recycle junk mail and envelopes. Magazines can either be tossed out or donated to libraries and retirement homes.
Perhaps the most important one of these decluttering tips is to just get started as soon as possible. Before you know it, your Westfield area home will be ready to show. Plus, you will already be well on your way to being ready to move out when it sells.
Scott Gleason, CRS at Coldwell Banker Realty – East, NJ Luxury Homes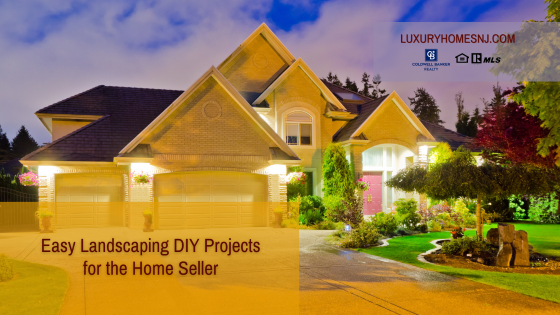 Ever get the itch to do a DIY project? Whenever we do, our favorites involve getting outdoors and mixing up our landscaping features. Whether it's as simple as installing some lighting or a little more time-consuming like re-plotting plants, a fresh look for the lawn always gives your Westfield area home a fresh look as well. Plus, this offers the best first impression for home buyers. Since we are entering the busy home buying period right now, you need to put your best foot forward when selling your home. Landscaping always needs to be included in your staging strategies, too.
Here are our top five easy landscaping DIY projects!
Easy Landscaping DIY Projects for the Home Seller
Create a Pathway
To guide you and visitors throughout your yard and link different areas together, install a pathway. You can use a wide variety of materials, including reclaimed pallet wood, flagstones, gravel, and more to add texture and color. Use these ideas from This Old House for inspiration if needed.
Add a Wall or Border
Installing a flagstone, rock, or brick wall around flower beds or trees adds a sleek, clean look to your landscaping and helps separate different sections of your yard. These landscaping DIY projects can be done over the course of a weekend.
Install a Water Feature
Nothing says "zen" quite like the sound of trickling water as you relax in your backyard. You can start simply by purchasing and installing a small feature powered by a solar panel. Or create a larger focal point in your yard by installing a waterfall wall or small pond.
Light Your Way
An easy way to transform your yard is to strategically use lighting. Place cool-colored lights high in trees to recreate a moonlight feel. Use pathway lights to naturally guide the eye or highlight objects or plants.
Plant Upwards
Expand your yard space by drawing the eye to the sky with a trellis fence or screen made of wood or metal. Once you install your trellis, select your climbing plants and vines and get to planting!
Scott Gleason, CRS at Coldwell Banker Realty – East, NJ Luxury Homes