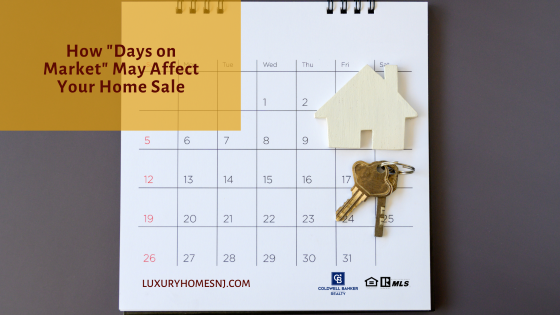 Most homebuyers look at the size of a property, its location, and the price right away. But, some buyers (as well as their REALTORS®) also look at how long the property has been on the market. Why? Newer listings get the most traffic. When it sits on the market for a while, buyers begin wondering what is wrong with it. Also, they believe the seller might be more willing to entertain a lower offer. Find out how the days on market can affect your home sale and what you can do to change it.
How "Days on Market" May Affect Your Home Sale
What are "Days on Market"?
"Days on market" (or DOM) are the number of days from when a property gets listed to when it enters a "pending" status. The average DOM varies from city to city. According to Redfin, Madison homes saw an average of 26 DOM in April 2022 while Short Hills homes spent 12 days on the market before changing over to pending. Lower DOM brings in the most interest. As the DOM grows longer, interest wanes. So, what do you do to bring back buyers' interest?
Breathing Life Into a Stale Listing
Review Feedback – Whenever your home is shown (either through an open house or a private viewing), your agent should ask for feedback from the potential buyer and/or their representative. From this feedback, you can find out what overall impression your home gives. In turn, this provides a base from which you can build your property back up for future potential buyers.
Take it Off the Market Temporarily – Many areas allow you to withdraw your property from the market and resubmit it after a specific period of time as a new listing (typically about 30 days). In essence, this "resets" your DOM. Use your downtime to make necessary updates/repairs to freshen it up. Sometimes, this may be something as simple as a new coat of paint or trimming the landscape. Other times, you might need to replace all the flooring or renovate an area or two of the home.
Lower Your Price – A majority of the time, simply lowering the price (even slightly) triggers a reassessment of the property by buyers. It also opens your home up to a new tier of buyers that may have considered your property out of their price range before. However, consider this. If you take your home off the market and make some updates, you might be able to list it at your original asking price. Talk to your REALTOR® to determine which areas to invest your money in to bring about the best result.
Scott Gleason, CRS at Coldwell Banker Realty – East, NJ Luxury Homes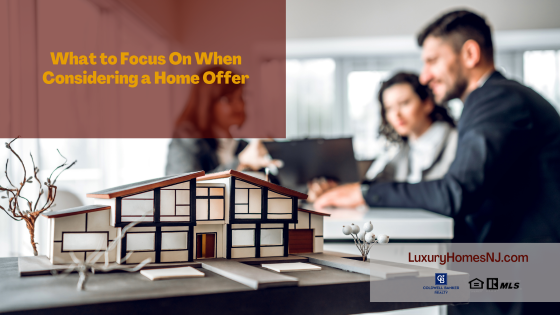 You listed your Westfield area home for sale and received multiple offers for it. Congratulations! Many sellers dream of being in your position. Now, the hard part. You must decide which home offer to accept. (An embarrassment of riches, right?) Sometimes, however, the highest price is not the best offer. Consider these other important factors before making a final decision.
What to Focus On When Considering a Home Offer
Contingencies
Most of the time, buyers include contingencies with their offer. These are conditions that must be satisfied before closing in order to complete the sale. Common ones include an appraisal, home inspection, loan approval, and sale of the buyer's current home. If a contingency is not met by closing, the buyer can walk away with their Earnest Money Deposit in hand. Therefore, fewer contingencies usually make for a smoother transaction.
Timeline
You have heard the phrase "time is money", right? Well, an offer fitting your time constraints is money, too. Perhaps you need a shorter escrow period because you need to move quickly. Or maybe you want a little more time than 30 days to get everything packed up and ready to move. Whatever your timeframe may be, an offer that fits in those parameters may well be worth a slightly lower offer price to you.
Earnest Money Deposit
Buyers must deposit money into an escrow account to hold as "good faith". When the sale completes, this money then goes towards the buyer's down payment. This is their Earnest Money Deposit. If they break the sales contract and walk away from the deal completely, the earnest money goes to the seller. While 1% to 2% of the sale price tends to be the norm, a higher EMD shows how serious the buyer is about the sale. The buyer is less likely to walk away when they risk losing this money.
Financing
Finally, let's talk financing. All-cash offers sound great. They tend to take less time to close and minimize contingencies more often than buyers who must finance their purchase. Unfortunately, a buyer with an all-cash home offer also tends to hold the negotiating power. Therefore, their offer may come in below your asking price.
On the other hand, a buyer whose offer includes financing provides a higher risk. Anything could happen to make the loan fall through during escrow. In fact, according to Rocket Mortgage, approximately 5% of pending sales fall through escrow. A home offer that includes a pre-approval letter makes a stronger claim than one without a pre-approval letter. Even so, a "pre-approval" is not a "final approval". If your buyer does not receive final approval for their loan, then you are right back where you started…on the market and in search of a new buyer.
Before making a final decision about a home offer, weigh its pros and cons. Ask your REALTOR® for their advice. Their experience can help you make a more informed choice that works best for your individual situation.
Scott Gleason, CRS at Coldwell Banker Realty – East, NJ Luxury Homes