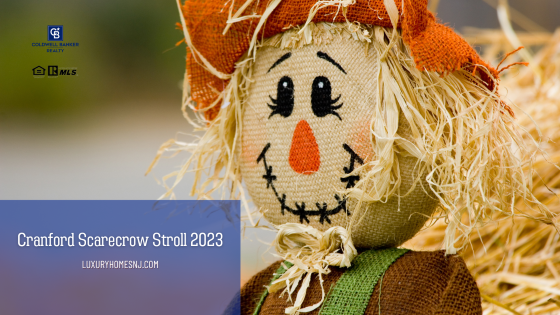 Fall is definitely in the air. Even Mother Nature couldn't stop the very first Cranford Pumpkin Spice Tour from taking place last weekend. While nearby Westfield offers a month-long celebration of native son Charles Addams during AddamsFest next month, our fair city also provides a tradition of its own: the Cranford Scarecrow Stroll.
What: Cranford Scarecrow Stroll 2023
Where: Downtown Cranford
When: October 13th to 31st
Cranford Scarecrow Stroll 2023
Each year, this beloved event showcases scarecrows created by local businesses, organizations, families, and kids for a bit of friendly fun and healthy competition. Everyone comes out a winner because we all get to enjoy the sights of these silly, scary, and downright creative scarecrows for two and a half weeks leading up to Halloween. But this year's stroll features so much more. In fact, organizers scheduled a different event almost every one of the 19 days the stroll takes place.
This year's stroll kicks off with a candy stroll at Eastman Clock Plaza Park on Friday, October 13th. Yes. That's Friday the 13th. Rather appropriate, no? Registration is required and tickets are limited. The stroll ends with a special Halloween night treat at the Cranford Theater. In between, you'll have the opportunity to participate in spooky paint and sips, trivia, beer-tasting, an apple pie contest, Halloween yoga, movies, and more. For more information on what happens and when visit the City of Cranford's website here. Most of the events require you to purchase tickets. Please make note of this when perusing the website.
Registration Information
If you want to participate in this year's scarecrow competition, it costs nothing to register. However, you do need to register by the end of the day on October 2nd. Register for one of these categories: youth (12 and under), teen/adult (13 and above), families, schools/organizations, or businesses. The winner of each category goes on to compete for Best Overall. For more information and to register, please visit the Downtown Scarecrow Stroll registration page. Good luck!
Scott Gleason, CRS at Coldwell Banker Westfield, NJ Luxury Homes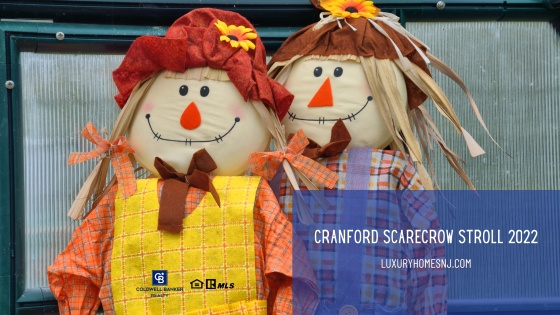 Westfield continues celebrating native son Charles Addams and his spooky creation The Addams Family with AddamsFest throughout the month of October. Neighboring towns celebrate the season with their own festivities as well. So, if you want even more Halloween-themed fun, come see the fun designs created downtown at the Cranford Scarecrow Stroll.
Cranford Scarecrow Stroll 2022
From now through Halloween, the streets of downtown Cranford display dozens of cute, silly, and scary scarecrows. When you go see the scarecrows, stop inside any of the businesses located around downtown and ask for a ballot. Then, make a note of your favorites while you walk around. Submit your vote by the end of the night on Halloween. The creators of the scarecrows with the most votes in each of the five different categories win a fun prize.
Other Fun October Events in Cranford
In addition to the Scarecrow Stroll, officials created several other fun activities to help celebrate the season. On the evening of October 22nd, Jersey Central Art Studios hosts a Great Pumpkin Carve-Out. Follow that up with a screening of the cult classic "The Rocky Horror Picture Show" at 10 pm at the Cranford Theater. On October 25th, satisfy that sweet tooth with a special candy station Halloween Pop-Up at Venue 104 between 3 pm and 5 pm. Autumn Sounds fill the air at Eastman Clock Plaza beginning at 5:30 pm on October 27th.
Saturday, October 29th has been declared Ghostbuster's Day in Cranford. Get slimed at Fire Me Up! Studio. Grab a Stay Puft s'more. View the Ecto-mobile up close and in person. Go on a Who You Gonna Call Scavenger Hunt. Then, finish the day off with a viewing of the 1984 classic "Ghostbusters" movie at the Cranford Theater.
On Sunday, October 30th, come watch the Halloween parade from 2 to 3 pm. It starts out at the Cranford Community Center and ends at the gazebo in the middle of town. That's where you'll find some pumpkin chunkin' going on. Then, go to Eastman Clock Plaza for the apple pie contest at 4 pm. On the 31st, it's every boil and ghoul for themselves. Happy Halloween!
Scott Gleason, CRS at Coldwell Banker Realty – East, NJ Luxury Homes