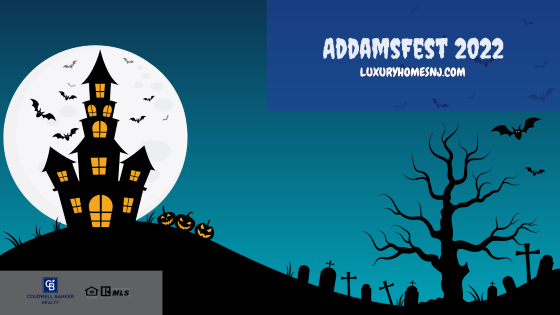 Downtown Westfield fills up with live music during the summer, thanks to the Sweet Sounds Music Festival. Now, fall is in the air. And October in Westfield means only one thing: AddamsFest! This year, organizers practically filled up the entire month with great events. Which one are you looking forward to the most?
AddamsFest 2022
Haunt Your House Decorating Contest
Dozens of Westfield homeowners participate in this contest each year. While only three homeowners win an actual cash prize, anybody who sees these displays considers themselves a winner, too. If you want to participate, there are five spots open (as of the writing of this post). Visit the AddamsFest website to register. But even if you don't register your home for the contest, you can still participate. Organizers need your help in determining the winner. All you need to do is go to AddamsFest.com beginning on Friday, October 9th for a list of homes to visit. Once you see each one, make a note of your favorites. Then, come back to the website to log your vote. The houses with the most votes win. Judging ends on October 30th.
Addams Family House on Mindowaskin Pond
Throughout the month of October, a special treat awaits those who visit Mindowaskin Pond. You will see the Addams Family home floating out on the pond. In addition to the floating house, the bandstand lights up in Halloween-colored lights specifically for AddamsFest all month long.
Wicked Windows of Westfield
When you stroll through the Downtown Westfield area, take a moment to admire the merchant windows specially decorated for this month-long event. They're creepy and they're kooky. Mysterious and spooky. They're all together ooky. And a ton of fun to see.
Addams-Inspired Murals
The Central Avenue Mural Gallery showcases several Addams-inspired murals throughout October. Take a walk through the Central Avenue underpass to view these incredible pieces inspired by this famous family anytime this month.
Lantern Cemetary Tours
Another fun thing to do is to take a lantern tour at the Presbyterian Church burial grounds. They run every 10 minutes starting at 5 pm. While technically free to attend, they do ask for a $5 donation per person or $10 per family. Sign up your friends and family for this special treat online here.
Addams Family Fun Day
From 10 am to 5 pm on Sunday, October 16th, Quimby Street transforms into an Addams Family wonderland. Only foot traffic will be allowed on Quimby during the event. Meet Addams Family's famous cast of characters. Carve out a pumpkin or two. Watch live performances. Listen to (family-friendly) spooky stories. And try your hand at dozens of Addams Family-inspired activities.
Rocky Horror Picture Show
So this is not technically related to anything Charles Addams. But it may be safe to assume that the Addams Family may have provided at least some of the inspiration for this irreverent cult classic. It plays for one night only (October 22nd) at the Cranford Theater. Get your tickets today.
Chatting With Charlie
On Thursday, October 27th, visit the Center for Creativity at the Rialto. A special screening of a 1981 PBS interview with none other than Charles Addams himself plays at 7 pm on the big screen. Afterward, guests enjoy light refreshments while taking a tour of exhibits at the center. Tickets cost $15 per person and will only be available for purchase at the AddamsFest website.
Family Movie Night at the Rialto
For more family-friendly viewing, come to the Rialto on October 29th. The film has yet to be announced. Check the AddamsFest website as screening day creeps closer to find out what this year's Halloween classic selection they plan on showing.
Unfortunately, tickets for Morticia & Gomez's Masquerade Ball and Charlie's Ale Garden have already sold out. Better luck next year. But as you can see, there are still plenty of other fun activities in store for this year's AddamFest event. See you there!
Scott Gleason, CRS at Coldwell Banker Realty – East, NJ Luxury Homes