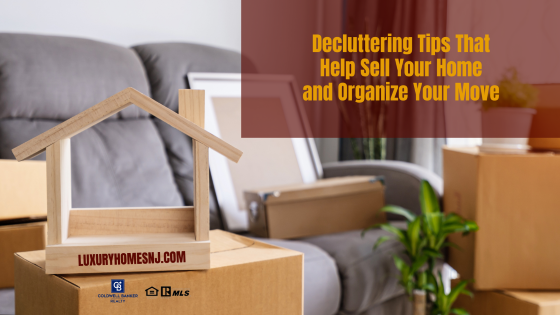 One of the top priorities when getting your Westfield area property ready to sell is to get rid of the clutter. This helps prepare your home for staging. Remember, staged homes sell faster and for more money than unstaged ones. However, clearing your space with intention performs double duty. How? Organizing your "stuff" not only clears the clutter but also helps you when it comes time to move. Use these decluttering tips when preparing to list your home for sale.
Decluttering Tips
Start Right Away
First, start the declutter process right away. It might surprise you how long it takes to go through personal items, memorabilia, etc. The sooner you begin, the less stressed you will feel about meeting your home listing deadline. Also, simply start in one room and work your way throughout the house so as not to feel more overwhelmed than necessary.
Sort
Another one of my helpful decluttering tips is to sort everything you come across into three separate piles: keep, donate, and trash. If you want, you can even make a "maybe" pile. Box these particular items up and include a detailed label. Then, if you find that you have not opened that box in six to twelve months, you may want to consider donating them.
Pack
Next, start packing. Clear bins work best because they make it easy to see the contents inside. However, cardboard boxes offer a cheaper alternative. When using cardboard boxes, make sure to clearly label which room it belongs in and what the box includes inside. That way your dishes do not end up in the bedroom and your clothes do not end up in the kitchen. Trust me. You'll thank me later. Make sure to write the appropriate room on more than one side of the box in large letters for easy recognition.
Trash the Paper
Finally, get rid of all that unnecessary paper. Receipts. Magazines. Old bank statements. Junk mail. We tend to accumulate paper. Shred any personal or financial information to avoid identity theft. Recycle junk mail and envelopes. Magazines can either be tossed out or donated to libraries and retirement homes.
Perhaps the most important one of these decluttering tips is to just get started as soon as possible. Before you know it, your Westfield area home will be ready to show. Plus, you will already be well on your way to being ready to move out when it sells.
Scott Gleason, CRS at Coldwell Banker Realty – East, NJ Luxury Homes